Forex Peace Army in New York Financial Press | Cash Out Goal is One of the Most Important Rules for Forex Money Management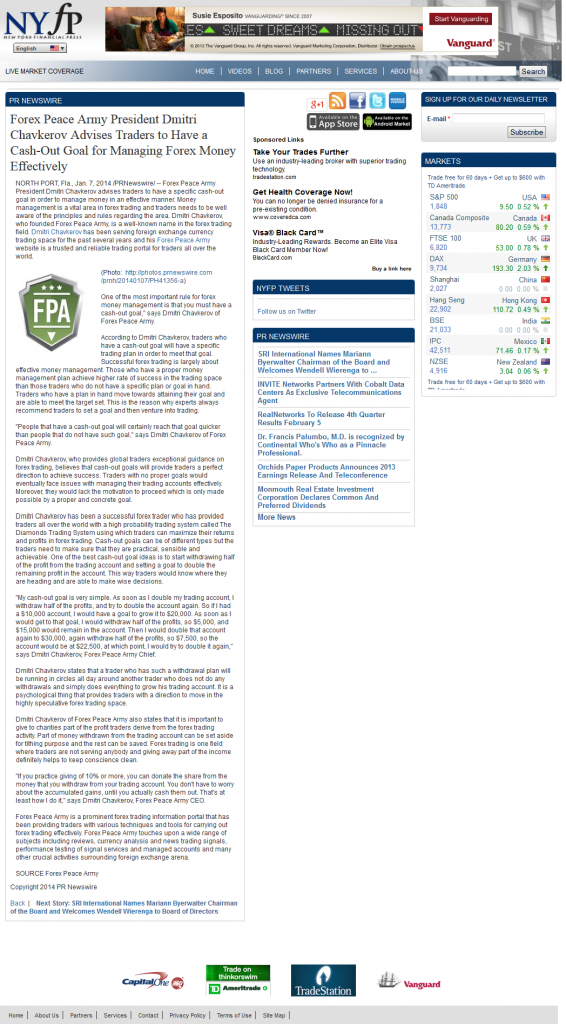 Forex Peace Army President Dmitri Chavkerov Advises Traders to Have A Cash-Out Goal For Managing Forex Money Effectively
NORTH PORT, Fla., Jan. 7, 2014 /PRNewswire/ — Forex Peace Army President Dmitri Chavkerov advises traders to have specific cash out goal in order to manage money in an effective manner. Money management is a vital area in forex trading and traders needs to be well aware of the principles and rules regarding the area. Dmitri Chavkerov, who founded Forex Peace Army, is a well-known name in the forex trading field. Dmitri Chavkerov has been serving foreign exchange currency trading space for the past several years and his Forex Peace Army website is a trusted and reliable trading portal for traders all over the world.
One of the most important rule for forex money management is that you must have a cash-out goal," says Dmitri Chavkerov of Forex Peace Army.
According to Dmitri Chavkerov, traders who have cash-out goal will have a specific trading plan in order to meet that goal. Successful forex trading is largely about effective money management. Those who have a proper money management plan achieve higher rate of success in the trading space than those traders who do not have a specific plan or goal in hand. Traders who have a plan in hand move towards attaining their goal and are able to meet the target set. This is the reason why experts always recommend traders to set a goal and then venture into trading.
"People that have a cash-out goal will certainly reach that goal quicker than people that do not have such goal," says Dmitri Chavkerov of Forex Peace Army.
Dmitri Chavkerov, who provides global traders exceptional guidance on forex trading, believes that cash-out goals will provide traders a perfect direction to achieve success. Traders with no proper goals would eventually face issues with managing their trading accounts effectively. Moreover, they would lack the motivation to proceed which is only made possible by a proper and concrete goal.
Dmitri Chavkerov has been a successful forex trader who has provided traders all over the world with a high probability trading system called The Diamonds Trading System using which traders can maximize their returns and profits in forex trading. Cash-out goals can be of different types but the traders need to make sure that they are practical, sensible and achievable. One of the best cash-out goal ideas is to start withdrawing half of the profit from the trading account and setting a goal to double the remaining profit in the account. This way traders would know where they are heading and are able to make wise decisions.
"My cash-out goal is very simple. As soon as I double my trading account, I withdraw half of the profits, and try to double the account again. So if I had a $10,000 account, I would have a goal to grow it to $20,000. As soon as I would get to that goal, I would withdraw half of the profits, so $5,000, and $15,000 would remain in the account. Then I would double that account again to $30,000, again withdraw half of the profits, so $7,500, so the account would be at $22,500, at which point, I would try to double it again," says Dmitri Chavkerov, Forex Peace Army Chief.
Dmitri Chavkerov states that a trader who has such a withdrawal plan will be running in circles all day around another trader who does not do any withdrawals and simply does everything to grow his trading account. It is a psychological thing that provides traders with a direction to move in the highly speculative forex trading space.
Dmitri Chavketrov of Forex Peace Army also states that it is important to give to charities part of the profit traders derive from the forex trading activity. Part of money withdrawn from the trading account can be set aside for tithing purpose and the rest can be saved. Forex trading is one field where traders are not serving anybody and giving away part of the income definitely helps to keep conscience clean.
"If you practice giving of 10% or more, you can donate the share from the money that you withdraw from your trading account. You don't have to worry about the accumulated gains, until you actually cash them out. That's at least how I do it," says Dmitri Chavkerov, Forex Peace Army CEO.
Forex Peace Army is a prominent forex trading information portal that has been providing traders with various techniques and tools for carrying out forex trading effectively. Forex Peace Army touches upon a wide range of subjects including reviews, currency analysis and news trading signals, performance testing of signal services and managed accounts and many other crucial activities surrounding foreign exchange arena.
SOURCE: Forex Peace Army